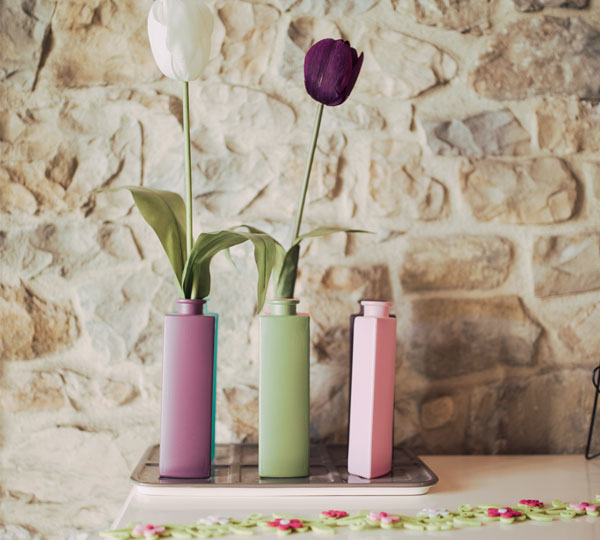 A special stay
The building, dating back to the early 20th century, underwent a full renovation, though it retained its period features. Set in Salsomaggiore's historical town centre, the hotel is near the Terme Berzieri, the Terme Zoja and five minutes away by foot from the Conference Centre.
Guests can enjoy our lounge bar, relax room with piano and TV, free wi-fi, free hotel bike rental, two large terraces and a garden with a gazebo for relaxing moments. Free car parking outside and guarded garage inside the hotel on request (with charge).
Our hotel is full of details for a special stay: coloured rooms (here) and aphorisms on the wall.
The restaurant
Our cosy and comfortable restaurant proposes you typical menus and local dishes with home-made pasta and cakes. In the restaurant you'll find a buffet of appetizers and vegetables, fresh fruits and cakes.
We take care to special diets of our guests and we propose on request vegetarian, vegan and gluten free menus.
If you book your room with breakfast, you can decide in the hotel to have dinner or lunch at Euro 19,00 / meal (buffet of vegetables, first course, second course and dessert).
Our restaurant staff will suggest you a good selection of local wines.
By special events we propose special menus with music and entertainment.
Testimonials
about us
L'ambiente è confortevole e accogliente e la cucina è molto curata e veramente buonissima con piatti di cucina regionale e non, per non parlare poi dei dolci veramente notevoli. Il personale è gentilissimo e professionale allo stesso tempo. Sono anni che frequento questo hotel è ci tornerò sicuramente.

Ci siamo ritornati anche quest'anno con la voglia di rivedere tutti e godere della cortesia e professionalità della struttura. Come sempre pulizia al top, cucina eccellente e disponibilità sempre presente. Ci ritorneremo l'anno prossimo... naturalmente. Grazie all'Hotel Elite al suo personale ed al proprietario!

Ho soggiornato alcuni giorni in questo albergo a Salsomaggiore, centralissimo ma in una strada tranquilla e silenziosa. Le camera sono spaziose, pulitissime, colorate il giusto per renderle accoglienti e calde. Colazione abbondante sia dolce che salata servita in una sala che si affaccia sul giardino. Il ristorante propone piatti della tradizione e non, con menu vario, e le pietanze sono curate e ben presentate. Ciliegina sulla torta: il personale. Sono tutti gentilissimi, senza affettazioni, tutti molto disponibili e professionali. Ti fanno sentire a casa. Complimenti a tutto lo staff, soprattutto al capostipite che gestisce in prima persona questa bella struttura.